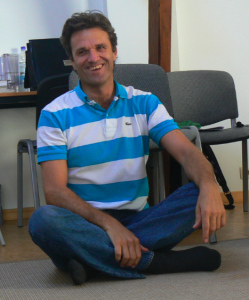 Following a childhood spent in close connection with nature, Jan Janssen completed various studies including civil engineering, one year's psychology at the VUB, Brussels, three years intuitive development in Antwerp, four years Brennan Healing Science in New York, two years teachers training BBSH in Long Island and Miami.
Long term study and practice with tibetan monks in meditation techniques and buddhist philosophy. Long term practice in Ashtanga yoga and other yoga. Training in Integrative Aquatic Therapy.
Several facilitator trainings in family constellations.
He has been an independent business manager and has led workshops and courses in consciousness-raising and self-development since 1998. From 2000 to 2009 faculty member at the Barbara Brennan School of Healing: in Miami, in Austria and in Germany.
Jan has created and co-created several programs for personal development and healing skills: Integral Presence®, Aquatic Healing®, Énergies Subtiles®, Hara Dynamiek, TransformationTraining, Sons Divins, … and has taught hundreds of students in short term and in long term training programs.
About 20.000 people from all walks of life have found their way to Jan for Integral Coaching: a means of guidance to liberate the full potential of all dimensions into a coherent whole.
He has a deep acquaintance with Eastern as well as Western spirituality: Tibetan Buddhism, Pathwork and Ashtanga Yoga are the main markers, but Jan's open spirit recognises the value of many traditional and modern movements.
He takes great pleasure in: walking, meditation, study, dancing, writing, humour, deep contact with friends, being on his own and the small things in life.